Industrial Snow Melting Stair Mat ("HRT" Series)
SKU: HRT11-36
---
Industrial Snow Melting Stair Mats
Keep Your Business Out Of The Red With Snow Melting Heated Stair Mats
PRODUCT
SPECIFICATIONS
HeatTrak PRO is here to make your business thrive during the cold months. Our commercial-grade Industrial Snow Melting Stair Mats are specifically designed to tackle the challenges of winter. With industrial-strength power, these mats effectively melt snow and ice, guaranteeing safe passage for every step. Don't let winter slow you down; invest in our durable outdoor heated stair treads and enjoy hassle-free winters like never before.
Melts up to 2" of Snow Per Hour!
Edge to Edge Snow and Ice Melting Power!
Put snow removal convenience at your fingertips with a HeatTrak Snow & Ice Melting Stairway Mat. Stairway mats are reliable, durable and ready the moment the storm hits to melt 2" (5 cm) of snow per hour.
Engineered with Safety in Mind
- Anti-slip grip textured surface
- Coated black grommets to secure mat
- Watertight Cord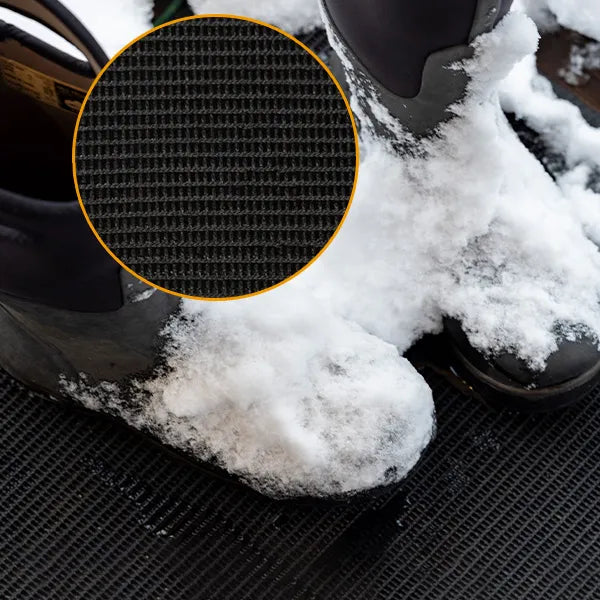 Connect Your Mats Together
Discover the incredible versatility of HeatTrak Stair Mats, designed to enhance your industrial winter setup. These innovative mats are designed for exceptional performance. With the capability to connect up to 14 amps of mats to our Power Unit (sold separately), you can unlock the full potential of our system. The Power Unit effortlessly links your mats to any outdoor 120V electrical outlet, gently warming the mats and effectively melting snow and ice away.
Before
After
650,000+
Snow and Ice Melting Mats Sold
200,000+
Households no longer shoveling
Customer Inspiration
See what our customers have done.